As a key element in energy distribution, power substations employ many specialized devices and their automation relies on mission-critical communication. A single error or delay may lead to catastrophic results, so precision and accuracy are both of upmost importance.
An automated substation communication network, according to Standard IEC 61850, is composed of three levels. The process level is where end devices such as merging units (MUs), circuit breakers, and switchgears process electricity switching. These processes are controlled from the bay level by intelligent electronic units (IED) or controllers. In addition, bay level devices acquire data from sensors and meters in the process level, and may further accumulate and transmit the data to monitoring systems like SCADA in the station level. This structure provides an effective and secure system that ensures processes are carried out at the right time with the right values.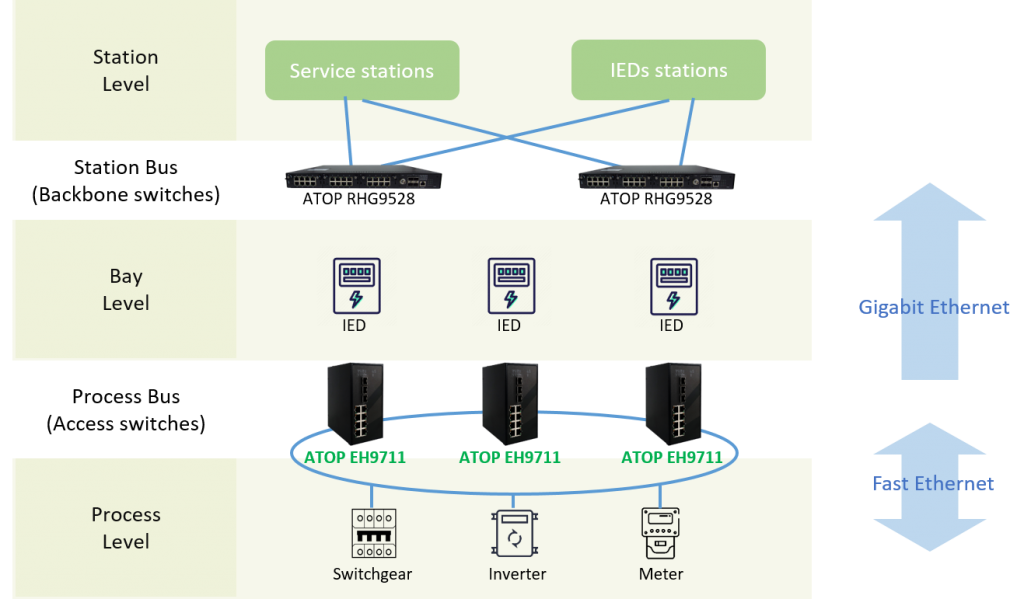 EH9711 was designed with this architecture in mind. It sits on the process bus and deals with small sampling packets from the downlink side through multiple 10/100BASE T(X) FE LAN ports that are compatible with end devices, while its Gbps SFP uplink ports can transmit the collected data in large amounts to the upper bay level without interference.
Many IEC61850 substations request high timing accuracy and fast communication redundancy to operate properly and to achieve the high reliability needed in power applications. With full IEEE1588v2 and SyncE support, EH9711 acts either as a hardware-assisted P2P/E2E transparent clock or as a software-assisted boundary clock, allowing packet updates within nanosecond-precision standards to achieve the strict time synchronization that MUs require.
No matter the bandwidth and precision, communications depend on the underlying connection—any downtime is intolerable! EH9711 supports multiple ring topologies for optimal network reliability, right on the process bus. In case a link fails by any reason, a redundant route is found immediately and processes continue as usual. Support for 88 V and higher voltages ensure simple installation in power substations.
Industry-specific application is considered in the design of EH9711 appearance as well as its functionality. The compact size fits easily in cabinets by its attached DIN-rail kit, and IEC61850-3 certified hardware compliments a secure development life-cycle to ensure protection in harsh environments against both physical and virtual attacks.
Search no more for a robust, compact switch with comprehensive connectivity, tailored and fully certified for automated substation process buses. For more information, click here or talk to our experts.