ATOP CWR, or Cellular Wireless Router, is an advanced device that allows a very tangible scale-up of almost any industrial wireless infrastructure. In addition to high EMC protection, wide-temperature operation, superb hardware and advanced features, CWR will provide high-speed internet access with load balancing and high degrees of security, high speeds and advanced configuration options.
Cellular 5G: Integrating a 5G module, CWR can provide 5G high-speed mobile network access, satisfying the new generation of IIoT applications.
High-Performance: With its integrated IEEE802.11ac wave-2 feature and supporting 2x2 concurrent MUMIMO RF, CWR provides high-throughput  connections through 2.4 GHz and 5.0 GHz bands.
Quad-ARM Cortex A7 CPU: CWR integrates an industrial-grade Quadcore A7 ARM CPU, enabling the processing power you need to filter heavy traffic over firewalls, routing, forwarding and security measures.
Harsh Environments: ATOP CWR is proven to run at its maximum loading in the harshest EMC and climate environments.
Wi-Fi Mesh: CWR's advanced chipset allows you to set up several devices as a  mesh network, achieving a self-healing network that adjusts its topology based on need--perfect for dynamic applications.
Security: Integrating firewall, zone forwarding, and VPN features, ATOP CWR allows you to connect your industrial network to the internet without fearing intrusions into your organization data.
APPLICATION CASE
As a Wi-Fi DBDC Router
CWR5805's simplest operating mode is as a router/access point. Use it to connect to the internet through your broadband provider via PPPoE, Static IP or DHCP and provide Internet connection to Wi-Fi and wired clients. With CWR you can define your own wireless access policy and set up a Firewall and VPN connection based on your needs .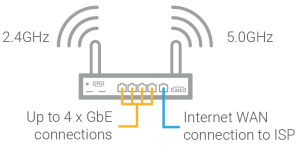 As a Wi-Fi Mesh Primary Router
CWR5805 is designed to act as a mesh router or as a mesh node, and the configuration of one or both radios to work in mesh mode takes barely any time. No more fussing with topology changes or complicated wiring! With Wi-Fi mesh, all nodes can communicate with each other and the transmission paths are dynamically adjusted if a change in signal strength or topology is detected. So, even if a device is temporarily unaccessible due to interference or position, the network will still work perfectly. Mesh functionality can be combined with all other features of CWR5805.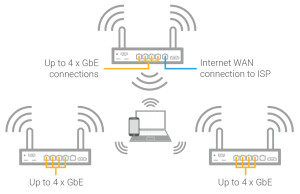 As a Cellular/Wired/Wi-Fi Router
CWR5805 allows you to easily set up a mesh Wi-Fi Router environment for providing broadband access to all users, in static or dynamic environments. Perfect for deployment on mass transit vehicles, CWR can access the internet via PPPoE, Wi-Fi and Cellular at the same time and provide smart traffic adjustment. The advanced dual-SIM configuration and hot-swappable design guarantees seamless 5G/4G connectivity throughout an entire shift.
Finally, these wide-ranging features are all enclosed in a rugged fanless design with operation temperatures from -40ºC up to +75ºC, to suit applications in any environment.