INDUSTRY
Smart City
CHALLENGES
In the modern retail landscape, vending machines have evolved beyond dispensing snacks and drinks to offer more diverse products and services. The vending machine invoicing system represents a groundbreaking approach that enhances customer convenience, optimizes inventory management, and streamlines payment processes. It allows customers to make purchases from vending machines using various payment methods, generating real-time invoices for each transaction. Sellers also benefit from insights driven by detailed transaction data, such as purchasing patterns, popular products, and peak usage times.
To implement the invoicing system effectively, a stable and secure communication channel is essential. Since vending machines primarily handle small-sized transactions, a low bandwidth LTE connection with a throughput of under 10 MB is sufficient, but connectivity within this bandwidth must be consistent and reliable to ensure timely and accurate transaction data handling. Regular log collection is also necessary to gain awareness of and troubleshoot any issues as soon as possible.
To retrofit the system in existing vending machines, the smaller the devices, the better. Yet each router requires a minimum of 2 10/100 RJ45 ports to bridge the IPC and payment terminal, as well as cellular connectivity for remote data transmission.
SOLUTION PROVIDED
ATOP provided a cost-efficient solution that connects each vending machine's IPC with a new payment terminal, and sends transaction data through 4G LTE Cat.1 for centralized processing, analysis, and troubleshooting. With 2 bridged LAN ports, LTE status stored in system log, and enclosed in a slim, compact casing, the new CR5201B cellular router is just right for the simple yet distributed system. Support from our user-friendly network management tools helped achieve quick and easy deployment, while industrial-grade hardware and additional cybersecurity features protect the system from harsh environments and cyberattacks.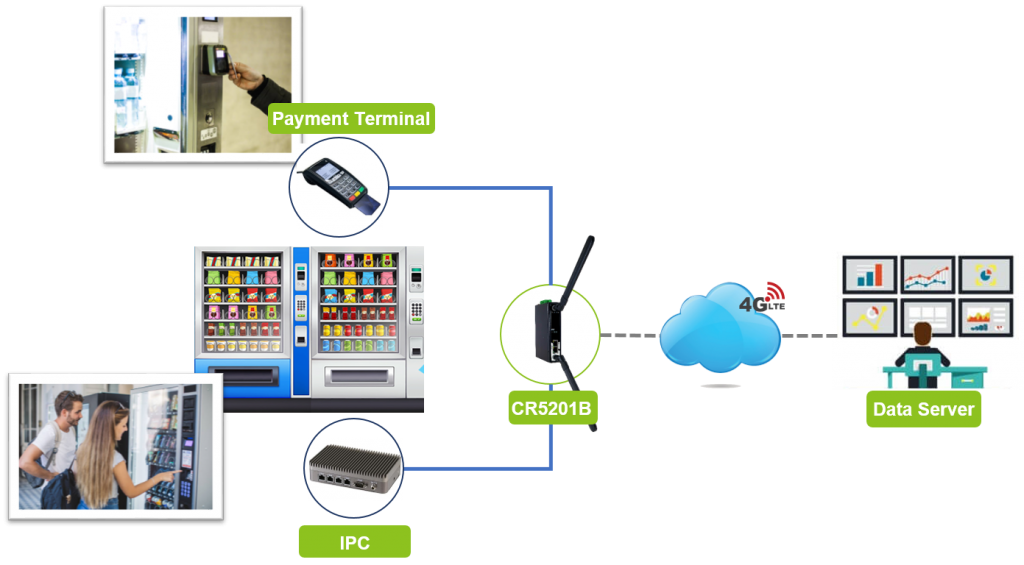 RESULTS
Our client significantly upgraded their business with minimal stress and minimal cost. The solution allowed them to enhance user experiences, reduce operational downtime, and make better-informed business decisions.
PRODUCT USED
1. CR5201B cellular router