ATOP hardware facilitates the collection of flow meter data to continuously monitor fuel usage patterns and implement targeted optimizations to improve efficiency.
INDUSTRY
Oil & Gas, CNG (Compressed Natural Gas) Fuel Management System
CHALLENGE
Fuel management systems are designed to effectively measure and manage the use of fuel within the transportation and construction industries. Business that utilize transportation, including rail, road, water and air, require fuel management systems to maintain, control and monitor fuel consumption and stock.
In this project, the client collects fuel data from 120 sites, through serial protocol interfaces such as flow meters, sensors, and POS transactions. For a system of this size, advanced analysis and management is best done centrally with SCADA (Supervisory Control And Data Acquisition), but the data has to be converted to TCP/IP for SCADA connectivity.
SOLUTION PROVIDED
Serial device servers SE5916 and SE5904D collect the serial data and basic analysis from flow meters and sensors, and sends the information in TCP/IP format to SCADA to centrally monitor the data between all 120 locations.
RESULTS
The solution allows simple integration of serial devices with the management network to achieve a comprehensive fuel management system, while incurring minimal cost and stress.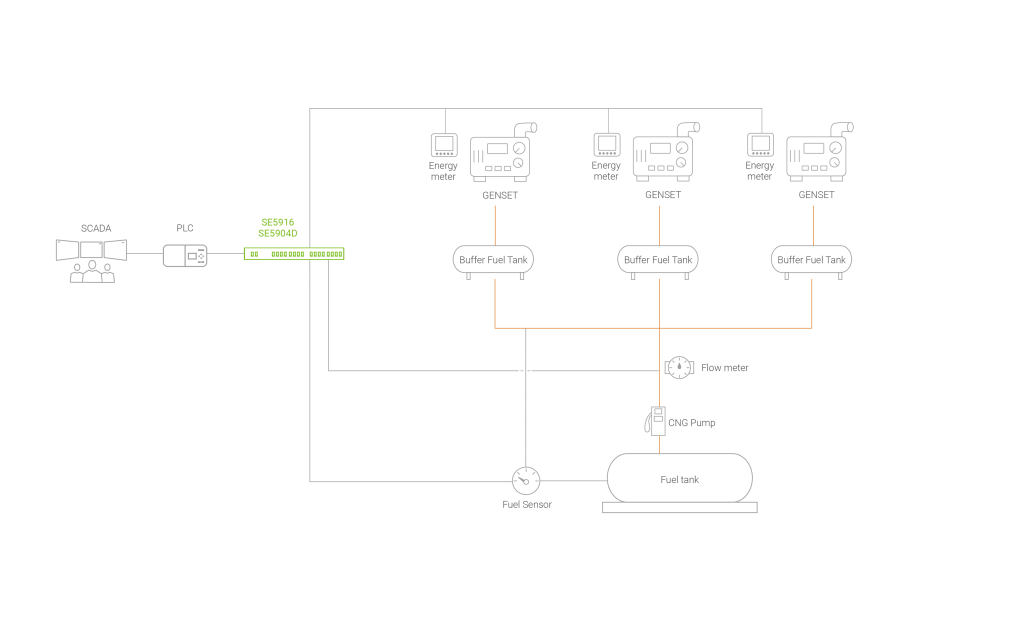 PRODUCTS USED
1. SE5916, 16-Port Industrial Secure Rack-mounted Serial Device Server
2. SE5904D, 4-Port Industrial Secure Wide-Temperature Serial Device Server