SOEKARNO HATTA INTERNATIONAL AIRPORT - TERMINAL 4, JAKARTA, INDONESIA 
INDUSTRY
Surveillance
CHALLENGE
The customer needs PoE switches combined with IP cameras for air traffic monitoring and surveillance. Control tower doesn't have full visual access to the runway and they rely on IP cameras for traffic monitoring.
SOLUTION PROVIDED
• Support to System integrator in defining the Ideal Network Topology for the application
• Integration of Unmanaged Switch EHG7307 and Managed Ethernet Switch EHG7508 with PoE
• Redundancy between managed switches through MRP Ring and MRP sub-rings
IMPLEMENTATION DETAIL & RESULTS
High reliability of managed switches required, under long, extensive operational conditions in harsh environments because of exposition to high temperatures and high humidity every day, 365 days/year.
Fiber connectivity to the control room-control tower.
Cost sensitive application.
Indoor networking redundancy through MRP rings and MRP sub-rings.
Firmware customization to avoid broadcast storms and to make MRP sub-rings efficient.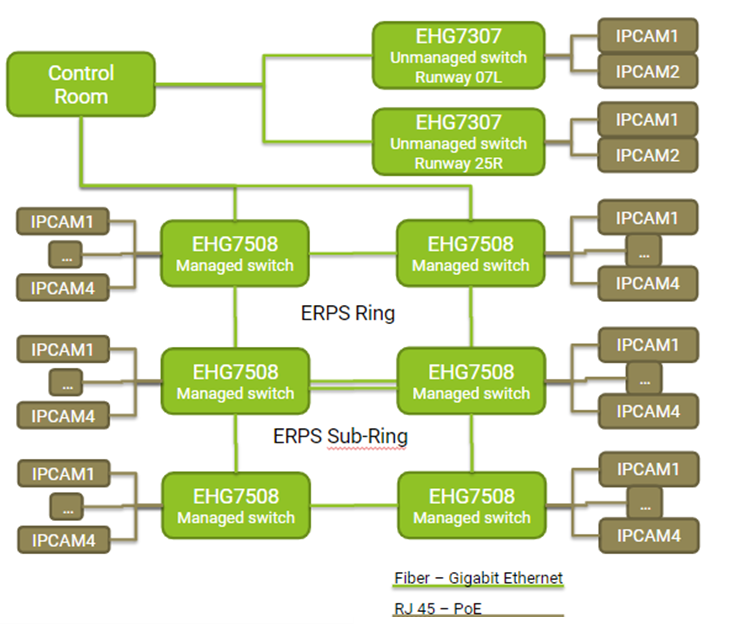 PROJECT PARTNERS
- A well-known Indonesian System Integrator
- Indonesian International Airport (project owner)
PRODUCTS USED
1. Industrial 7-Port Unmanaged PoE Switches EHG7307
2. 8-Port Industrial Managed Gigabit PoE Switch EHG7508
3. RHG7628 Rack-mount modular managed Gigabit 28-port Layer-3 switch