DI1000 Series
When it comes to seamlessly manage real-time communication while complying with strict real-time protocol requirements, ATOP has you covered.
With a single hardware and software interface regardless of the protocol in place, we make sure that all your communication related requirements are taken care of in-time.
At ATOP we have developed embedded communication chips and modules which are specially designed to confirm to the Profinet IRT protocol, which is where the DI1000 Series comes into play.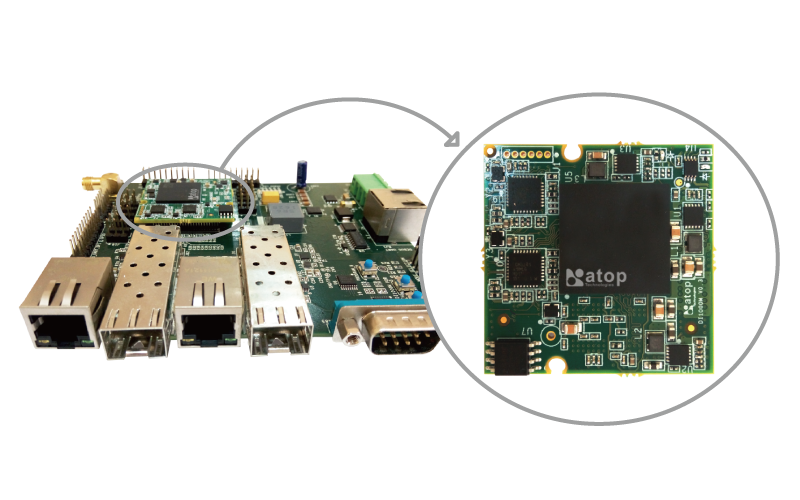 The DI1000 Series
Available in both chip and module configurations, the D1000 is designed to be a reliable and robust interface for field device performance enhancement via real-time protocols.
Why Choose Our DI1000 Series
Offering an easy integration with the CPU, the series is a perfect alternative to application-specific integrated circuits (ASIC).
One of the biggest features of DI1000 is making any machine manufacturer Universally Industrial Protocol Ready without the need of any dedicated hardware and software team.
The series works as a network processor (communication module) which takes care of the protocol side, and passes on the data to the host CPU.
At just 3.3 volts, the series is low power.
It is designed to work as a standalone solution under which the application runs on the ARM core without any requirement of the host CPU. This feature is a one-stop solution; one that you can save money by not having to use extra components.
It is also possible for you to upgrade the firmware or various protocols via a file transfer protocol (FTP) or a serial cable.
Protocols Supported
The series supports the following protocols:
• Profinet RT/IRT
• Modbus
• EtherCAT
The DI1000 Variants
The DI1000 series chiefly comes in three variants:
• DI1000C
• DI1000M
• DI1000D
DI1000C
The DI1000C is a high-performance industrial Ethernet network interface chip which comes with an integrated stack and is powered by a Single-Core ARM A9 667MHz DI1000C CPU.
While this variant doesn't come integrated with software or stack, you can equip it with one.
Here are some of the key features of the chip:
• Provides a single shared development platform for multiple industrial protocols
• Designed to cater to high volumes and tailored implementation inside the end-use equipment
• Clock synchronous operation and conformance tested
• The industrial grade chip can operate in a wide range of temperatures from -40 Celsius to 85 Celsius
• Comes in multiple interfaces like two media-independent interfaces for a fast-Ethernet, Serial Peripheral Interface and an Universal Asynchronous Receiver/Transmitter
• Allows you to add connectors around the chip
DI1000M
If you are looking for a simpler implementation as compared to the DI1000C, we recommend this real-time Ethernet module.
Here are some of the key features of DI1000M:
• A ready to implement solution which minimizes your programming efforts
• Confirms to IEEE 802.3 standard for 10BaseT and IEEE 802.3u for 100BaseT(X) or 100BaseF(X)
• Comes in multiple interfaces and sports twice as fast Fast-Ethernet Ports
• Has one 56 pin 1-mm pitch and 50 pin 1-mm pitch male connector respectively
• Provides flash based file system support with solid security
• Has a compact 36x36 mm form factor with integrated Fast-Ethernet Physical Layers
• Clock synchronous operation and conformance tested
• Allows easy integration of Industrial Ethernet Protocols like Profinet RT/IRT and EtherCAT
DI1000D
DI1000D is an input/output (I/O) expander board from the DI1000M variant without another CPU. It comes powered with a powerful DI1000C 667MHz ARM Core CPU processor, and is designed to accommodate the DI1000M Ethernet module.
Here are some of the key features of DI1000D:
• Simple platform to test and implement DI1000 based applications
• Equipped with two RJ45 Ports and SFP slots for a Fast Ethernet Interface
• Integrates the DI1000M Socket, for Multiple Protocol Support
• Designed to be compact, it is ideal for evaluation
• Three 2.54mm pitch-connectors for GPIO/DPRAM/Sync and control signals
Why Choose ATOP's Products
With our state-of-the-art products you get a lot more:
• We provide a design reference board and a step-by-step manual to make the integration of our products easy
• Our product licensing is royalty free
• With a track record of over 30 years, we have a proven experience of ensuring successful implementations globally
• To help with any issue which might arise during the product's usage, our prompt and reliable customer service is always at your disposal