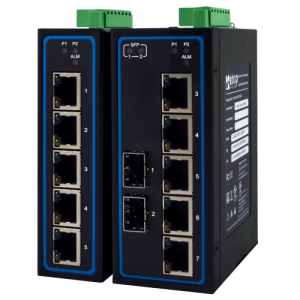 The wide temperature switch can be used in heavy construction machinery like cranes which are used outdoors in testing circumstances. When it comes to digitally operated railway tracks and outdoor stations requiring unmanaged switches, our product goes the distance.
The switches have already been applied in case of over 500 telecom towers requiring a wide temperature unmanaged switch with a fiber port and can also be applied in case of fiber to home services where reliable gigabit throughput is required in case of rugged conditions on roadside panels.
Key Features
The flagship feature of these switches is their ability to work in extreme temperature conditions ranging from -40 degree Celsius to 70 degree Celsius. They also come with a IP30 certified physical casing available in steel and aluminum variants.
Available in five ports as a minimum and extending to seven ports, the gigabit Ethernet interface is also capable of supporting lower speeds like 10 and 100 MBPS. There are also variants come with two gigabit SFP uplink slots one of which supports 100FX Ethernet speed.
The switches have an alarm feature in case of power failure and work for 12 to 52 VDC dual voltage. They support jumbo frames with a payload capacity of 10,000 bytes.
The switches confirm to IEEE 802.3z standard for 1000Base-X, IEEE 802.3at and IEEE 802.3af PoE specification for up to four ports with each port capable of transmitting 30W power.
The Variants:
There are chiefly three variants available in the EHG730X series:
• EHG7305 – A five port switch, with three to seven LED indicators
• EHG7306 – In addition to the five ports, the switch contains a SFP slot and a side switch to control the data transfer speed which is by default set at 1 GBPS
• EHG7307 – The switch contains two SPF slots and like its EHG7306 counterpart, four to nine LEDs
Certifications:
• EN50155 and EN50121-4 certified for Railway and Trackside applications
• CE/FCC UL 61010-2-201 and UL C1D2/ATEX Zone 2 safety certified
ATOP's Assurance
The switches are manufactured keeping in mind the highest possible quality and performance standards. We also provide a five year warranty.