One of the ultimate benefits of smart factories over conventional ones is the amount of control an administrator can have over processes. With interconnected sensors and equipment, the Industrial Internet of Things (IIoT) allow more efficient and accurate data collection, exchange, monitoring, and analysis. However, sensors and equipment are not the only components of this huge growing web. Smart factory network topologies can have 2 or more layers, including the access layer, which connects directly to end-devices, the core layer, which collects all data and forwards it to the administrator, and aggregation layers in between to simplify complex connections and to distribute data traffic loading.
Usually, due to cost considerations, the access layer consists of larger numbers of simple, unmanaged switches, while the fewer aggregation and core layer devices have more advanced features for network management. Yet some management features like web configuration and RSTP redundancy are as much, if not more, useful at access layers.
The EH3408, therefore, is the ideal, cost-effective solution where simple managing is required. As a lite-managed switch, it provides functions like SNMP, warning relay-out, Syslog and a user-friendly web GUI. Use it to help you set up Quality of Service (QoS) and VLAN to run industrial protocols like Profinet and Ethernet/IP when creating a compatible network for Industry 4.0 automation equipment, and link it to a powerful, fully-managed device like ATOP's EHG7508 for balanced access-core functions.
EH3408 wins furthermore by having a small size that takes up minimal space, an important limiting factor when choosing factory hardware. What we never limit is cyber protection: the EH3408 series supports security features based on the IEC62443-4-2 standard.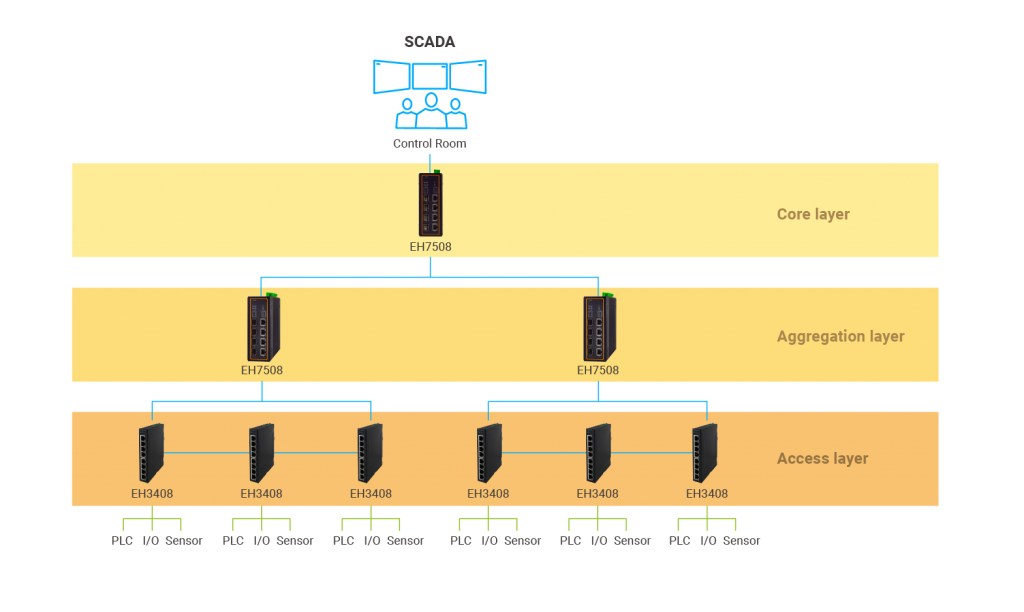 For more details and features, check our product info here.