Today more than ever convenience, speed, and reliability are the decisive factors for ensuring the desirability of modern railway transit. The key to delivering these factors is optimum line utilization through railway automation.
So as an international standard set for modern Railway applications, EN50155 guarantees the performance and reliability of railway network devices, by determining their operation, design, construction, and testing.
EN50155 and EN50121-4 certified for Railway applications
That's why ATOP is pleased to announced its range of powerful EN50155-certified Railway switches. Having undergone environmental testing to ensure reliable performance under a variety of power supply conditions, such as voltage variations, power interruptions, and supply changeovers, these Railway Switches Series are able to withstand various environmental disturbances, including, vibration, shock, and temperature variations, as well as complying with essential sections of EN50121-4 for ground equipment.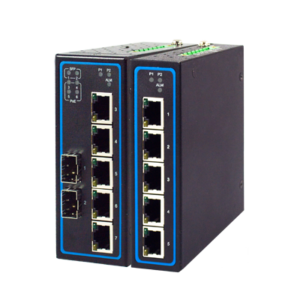 Industrial Unmanaged Gigabit Switch with up to 7 x ports, including 2 x SFP Uplinks, ATEX and EN50155/ EN50121-4 certification, Profinet connectors, optional PoE, and DIN-Rail mountable.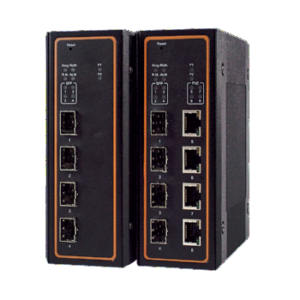 Industrial Managed Gigabit PoE Switch with up to 8 x PoE ports, including up to 4 x SFP Uplinks, ATEX and EN50155 / EN50121-4 certification, Profinet CC-B certification for EHG7504/08 series, IEEE 1588v2 Precision Time Protocol Hardware-based Transparent Clock, and DIN-Rail mountable.
4-Port Models: EHG7504 Layer 2 version. EHG7604 Layer 3 version.
8-Port Models: EHG7508 Layer 2 version. EHG7608 Layer 3 version.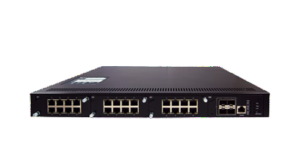 RHG7628 Rack-mount Managed Series
Industrial Rack-Mount Modular Layer-3 Gigabit Ethernet PoE Switch with up to 24 x Gigabit ports and 4 x 10 Gigabit SFP uplink slots, EN50155 / EN50121-4 certification, Profinet CC-B conformance, and MACsec support.
RHG7528 Layer 2 version. RHG7628 Layer 3 version.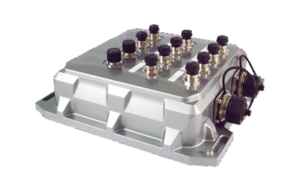 Aluminum-enclosed IP67 waterproof Managed Gigabit PoE Switches with up 10 ports, including 8 x M12 copper ports and 2 x Gigabit SFP slots, EN50155, EN50121-4 and UL 61010-2-201 certification, and Profinet CC-B.
EMG8508 8-port version. EMG8510 10-port version.