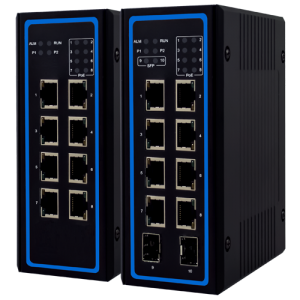 A key component in automation systems, the PoE solutions are used in surveillance systems extensively to reduce wiring costs and enhance productivity. Our product is capable of operating in a temperature range of -40 to 75 degree Celsius and adheres to various standards including - IEEE 802.3x for 1000BaseX, IEEE 802.3af/at for Power-over-Ethernet and 100BASE-FX Ethernet standard.
Product Variants
The EHG64XX PoE booster chiefly comes in eight variants, with the number of ports ranging from eight to ten.
• EHG6408 EHG6408-4PoE-24V
• EHG6408-8PoE-24V
• EHG6410-2SFP
• EHG6410-4PoE-2SFP-24V
• EHG6410-8PoE-2SFP-24V
• EHG6410-2SFP-D with a dip switch in case of 1000X/100FX speeds
• EHG6410-4PoE-2SFP-D-24V
• EHG6410-8PoE-2SFP-D-24V
Power Consumption
The 24V PoE model operating at an input voltage of 12 to 23V, supports electric current up to 7 Amps and power consumption of 60 Watts. In case of an input voltage of 24 to 57V, the PoE model supports electric current up to 6 Amps and consumption of 120 Watts.
ATOP's After-Sales Guarantee
Every PoE booster switch goes through a rigorous manufacturing and testing process to ensure a high quality products to clients. In the event of something going wrong, rest assured as the product comes with a 5 years warranty.