Coming up… High-density PoE Rackmount Modular Managed Layer-2 and Layer-3 Gigabit switch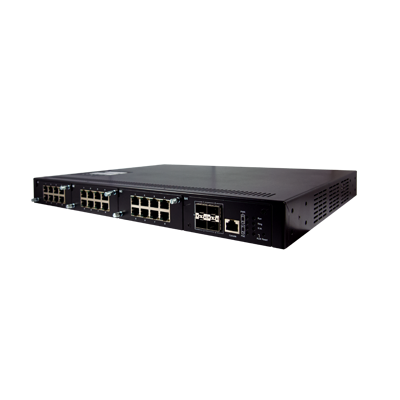 June 23, 2017
---
In our continuing endeavor to bring to our customers Industrial Networking products that have a wider range of Hardware platforms that are rich in features we are proud to announce the availability of our Industrial Grade, High-Density PoE Rack-mount Modular Managed Gigabit Switch, with 1G or 10G Fiber uplinks.
RHG7528/ RHG7628 Series Strengths:
The Modular Architecture allows us to tailor the switch on your needs. And if your needs change in time you will be able to adapt to them easily.
Total up to 28 Ports, with up to 24 Gigabit ports customizable in the 3 Module slots plus 4x1G or 4x10G SFP uplink slots
Available with L2 or L3 software set-up, in 3 power input configurations
Industrial Fanless design and Level 3 EMC protection, supporting up to 720W PoE/PoE+ ports (802.3af, 802.3at)
Supports a wide variety of Redundancy protocols, ITU-T G.8032 ERPS, RSTP, STP, MSTP and MRP (client)
Supports IEEE1588v2 Precision Time Protocol Hardware-assisted Transparent Clock and sw-based BC
Advanced link security through Hardware-based link Encryption (MACsec) is supported on Layer-3 version
L3 version supports IPv4 static routing, RIPv1/v2, OSPFv2, multicast protocols like IGMP, DVMRP, PIM Dense and Sparse mode and Routing Redundancy through VRRP. Multicast protocols coming Q2/2018
RHG7528 and RHG7628: your ideal solution to high-density applications requiring high performance and compatitive pricing.
For any enquiry, please visit our website or contact your Atop representative.
RHG7528 : 24G + 4x10G  Port Industrial Managed Layer-2 Gigabit Modular rackmount switch
RHG7628 :  24G + 4x10G  Port Industrial Managed Layer-2 Gigabit Modular rackmount switch
To be continued…..