Especially designed for IEC61850 substation backbone use, RHG9528 provides the flexibility needed for your application demands with nanosecond-level accuracy.
One device, twofold solutions
ATOP is proud to introduce the new RHG9528, a managed modular Gigabit switch and PTP boundary clock that enables clock synchronization of automation systems with nanosecond-level accuracy.
IEEE1588v2 PTP, IEC61850-9-3 Power Profile and HSR/PRP
RHG9528 is an advanced and flexible platform that combines embedded high-bandwidth switching fabric, an accurate hardware-based boundary clock or Transparent clock, IEC61850-3 compliant hardware, and fully supports the IEC/IEEE61850-9-3:2016 Power Profile. HSR/PRP ports are also available. When properly configured, our switch can seamlessly provide peer-to-peer transparent clock and boundary clock on all ports, HSR/PRP ports included.
Target product application: Substation 61850-3 backbone Ethernet switch
RHG9528 perfectly matches all typical application requirements of power substations: 
Downlink port to bay level IED, controller, switchgear and other bay level devices: Downlink port connections inside the chassis  

Long-distance uplink port connection to station level management system: Fiber interface as the best medium against interference

High traffic load in uplink connections: 10 G Fiber Ethernet for uplink port

Demand for time accuracy and drift: Connected with GM to deliver accurate time to slave, boundary, and HW-based transparent clocks

Substation provides different power inputs: Compatible with normal DC, HVDC, and HVAC 

High reliability in network and power redundancy 

Tolerance for harsh environments and high EMI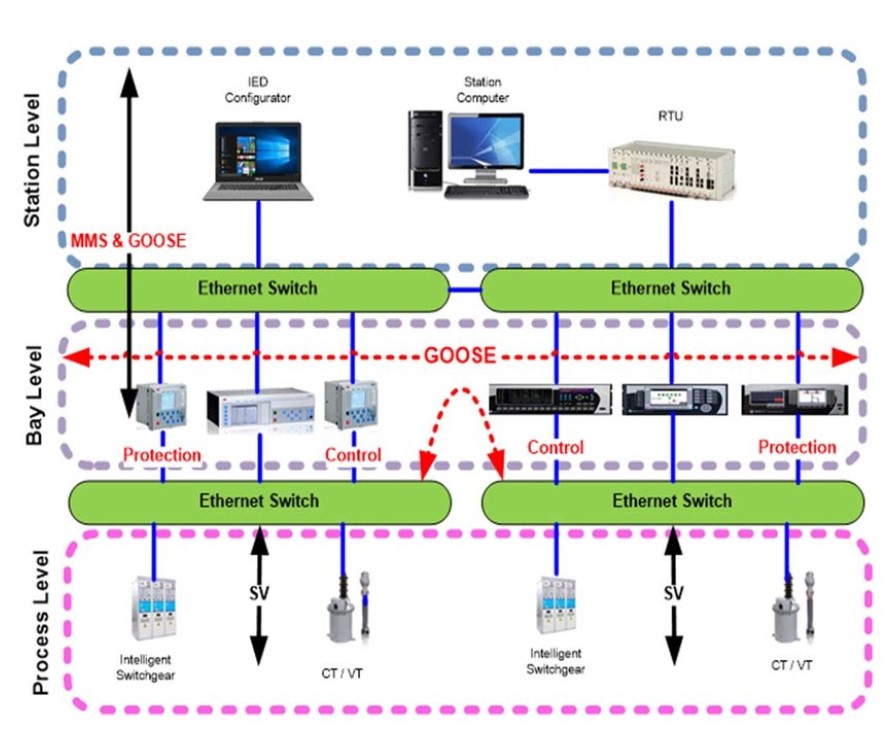 Usually, the bay level is far from the process level. Fiber is an ideal means to avoid environmental interference caused by distance.
High availability applications
Zero packet loss, on multiple ports, through HSR/PRP technology
Install a 4-port Gigabit RJ45 or SFP high-availability module through any of the module slots on the RHG9528 CPU board, and you're good to go.
Congratulations! Your network is now fully compliant with IEC62439-3:2016 Clause 4 (PRP) and IEC62439-3:2016 Clause 5 (HSR) simultaneously through this 4-port module.
ATOP's device will replicate the packet through 2 redundant paths so that the risk of the end-application losing a packet is almost zero.
Here is an example of a mixed HSR/PRP network, where RHG9528 is used flexibly both as a Transparent or boundary clock, and as an HSR/PRP manager: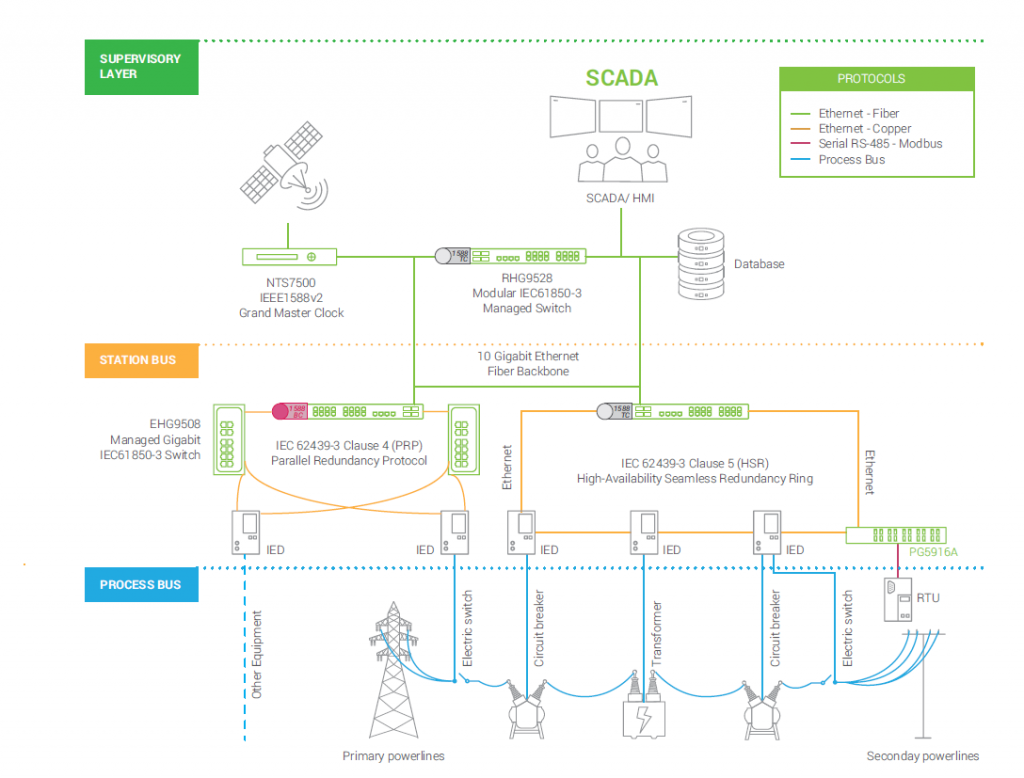 Boundary clock applications
High accuracy delivered, even in holdover mode
ATOP's RHG9528 boundary clock, once synchronized, achieves the 50ns precision set forth in the ITU-T G.8271.1 recommendation. And it is equipped with a high-precision OCXO to guarantee that precision in the event of a link or device failure, with a maximum time-drift of 250ns from GNSS time. All this can guarantee a maximum 1.5μs end-to-end time deviation budget from the GNSS to the end-application, up to 10 BC hierarchies.
Application example: discover how the RHG9528 Boundary Clock works with ATOP's NTS7500 Grandmaster Clock. 
RHG9528 can easily function as both an access/aggregation switch with up to 4 x 1/10Gbps SFP slots and as a PTP boundary clock. Up to 28 ports can be individually configured to run different instances of IEEE1588v2.
A wide variety of settings are allowed within profiles, such as the Power and the Enterprise profiles. RHG9528-BS supports Synchronous Ethernet, allowing the transport of time and frequency, which is important for legacy networks such as SDH-SONET.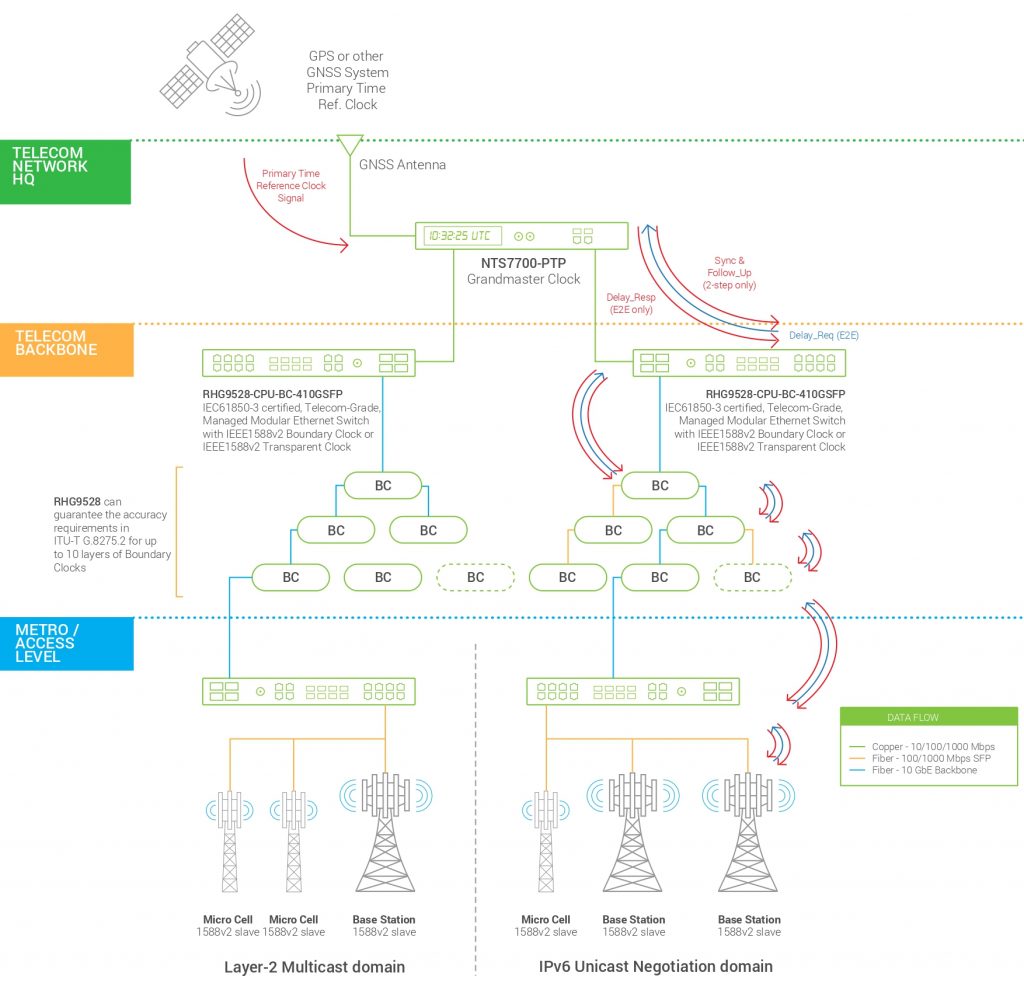 To learn more about benefits, technical features and compliances, please refer to the RHG9528 Datasheet.
Our experts are at your complete disposal for any queries; do not hesitate to contact them!