The coronavirus pandemic should be a wake-up call to the international manufacturing sector, highlighting that Industry 4.0 technologies are necessary for survival in a global marketplace that will require more agile and flexible production systems and supply chains.

With Industry 4.0 technologies – like 3D printing, the internet of things (IoT), advanced robotics, artificial intelligence and big data – manufacturers will see the benefits of applying a digital-first mindset to a physical business.

In addition, the growing need for remote interaction and asset management during the pandemic has highlighted the necessity of advanced manufacturing technologies that include cloudbased services and future 5G solutions. The agility enabled by such technologies has allowed early adopters to see the benefits of their investments as they have pivoted more quickly and smoothly during the disruptions created by COVID-19. Such examples of resilience and adaptability are likely to lead to an acceleration of the adoption of advanced manufacturing technologies and processes as companies look to adjust to the emerging "new normal".

[...] Although perhaps a once-in-a-lifetime event, COVID-19 is rewarding forward-looking manufacturers who invested in advanced manufacturing technologies by making them more resilient to the crisis. Technology vendors around the world are doing their part to support companies fighting COVID-19, offering free advice and consultation. This provides a great opportunity for all companies to reassess their technological gaps and put in place a digital transformation plan to come out of the crisis stronger and better prepared to face future disruptions.

Source: "The Impact of COVID-19 on the Future of Advanced Manufacturing and Production Insights from the World Economic Forum's Global Network of Advanced Manufacturing Hubs", June2020, World Economic Forum.
ATOP supports this international crisis, mitigating its impact on industrial networks, ensuring a seamless connectivity.
SE5901B is the solutions specifically designed by ATOP's R&D machinery to provide robust serial signal communication, which is both high-performance and cost effective at the same time.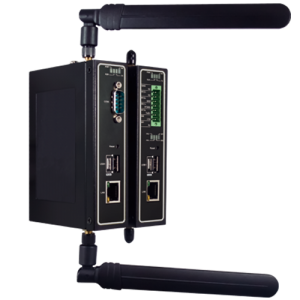 The SE5901B allows virtually any serial device to connect to the Ethernet to enable wireless secure serial communication.
Applicable for both 3G and 4G networks, is designed to function as:
• 3G/4G serial gateway
• Modbus gateway
• Smart Grid protocol gateway
The series promises a robust industrial performance thanks to high electromagnetic protection, wide temperature resistance, programming and installation flexibility. It provides an extensive coverage across various frequency bands and presents advanced features:
SMS Functionality
Enables users to communicate with the device and receive vital alerts via SMS. Mobile numbers – which can be customized to create a restricted list can securely access the device using SMS and send commands.
Some of the SMS commands integrated in this system are for:
• Rebooting the device
• Connecting and disconnecting from VPN Protocols like IPsec, PPTP, OpenVPN
• Activating or deactivating cellular data flow
• Getting information on signal strength, IP address and GPS coordinates
In case of authentication failure, password and IP address change, device startup – alerts will be sent to the mobile via SMS.
Dynamic DNS
The device supports eight prominent Dynamic DNS servers including mydns and noip. In this system, the host server informs the DDNS server of its current IP which then returns it to the users based on their request. This enables the users to connect to the current IP.
Flexible Configuration
Flexible configuration options mean that the SE5901B series can be set up over the Ethernet via Telnet, Web Browser, Serial Console, or our Windows Utility.
Advanced Features
Some of the additional specs of SE5901B are - two digital inputs, outputs via a dedicated I/O version, geo-location via the GPS version and a "B" version which provides 15 seconds of power backup which allows it to relay back the information about the power failure to the host.
Firewall
Firewall is a necessity when it comes to either a 3G or a 4G network to prevent the looming risk of a port scan attack. The network becomes vulnerable to such kind of attacks due to the public IP addressing by the Internet Service Provider (ISP).
Port Forwarding
One of the features under the Firewall Setting is Port Forwarding which is used to redirect a communication request from one address and port number combination to another, while packets are traversing a network getaway.
DMZ
Another feature under Firewall is the Demilitarized Zone (DMZ) which separates the Local Area Network (LAN) from un-trusted servers. The DMZ contains external facing servers and resources which can be accessed from the internet but the LAN remains unreachable. This adds a layer of security for the LAN by stopping hackers from directly accessing internal servers and data via the internet.
Ping Reboot
The Ping Reboot function ensures guaranteed quality of 3G and 4G communication by sending packets to specified destinations using periodic PING protocol. It will come into play once the SE framework detects no response from the destination.
Click here to discover the whole path of features and specifications.