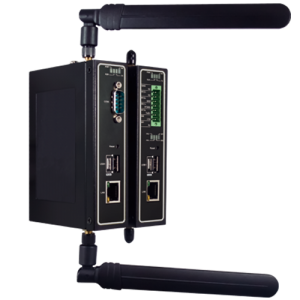 SE5901B Features
In our previous newsletter we had discussed features like Firewall, Ping Reboot and more. Here are some of the other key features of the device:
SMS Functionality
This newly added feature enables users to communicate with the device and receive vital alerts via SMS. Mobile numbers – which can be customized to create a restricted list can securely access the device using SMS and send commands.
Some of the SMS commands integrated in this system are for:
• Rebooting the device
• Connecting and disconnecting from VPN Protocols like IPsec, PPTP, OpenVPN
• Activating or deactivating cellular data flow
• Getting information on signal strength, IP address and GPS coordinates
In case of authentication failure, password and IP address change, device startup – alerts will be sent to the mobile via SMS.
Dynamic DNS
The device supports eight prominent Dynamic DNS servers including mydns and noip. In this system, the host server informs the DDNS server of its current IP which then returns it to the users based on their request. This enables the users to connect to the current IP.
Flexible Configuration
Flexible configuration options mean that the SE5901B series can be set up over the Ethernet via Telnet, Web Browser, Serial Console, or our Windows Utility.
Advanced Features
Some of the additional specs of SE5901B are - two digital inputs, outputs via a dedicated I/O version, geo-location via the GPS version and a "B" version which provides 15 seconds of power backup which allows it to relay back the information about the power failure to the host.