Diverse Hardware Infrastructure
Modbus Gateway supports the four most commonly used communication standards, RS-232/485/422, and Ethernet. The ease-of-use configuration utility provided with Modbus Gateway can quickly select the hardware interface, and easily switch to the existing communication infrastructure. You could set it up via Web Browser, Serial Console, Telnet Console, Windows Utility or through the LCM display in front of the device. Industrial EMC protection makes MB5908 ready for every mission.
Security and Redundancy
MB5908 embeds OpenVPN and IPsec VPN, that allows you to tunnel your data securely throught the internet and prevent unauthorized control of your Serial Devices by malicious people. The integrated Rapid Spanning Tree Protocol (RSTP), allows you to add a backup Ethernet link in the event the primary one fails.
Switching between Modbus Protocols
Modbus Gateway supports the standard Modbus protocol and is capable of converting any Modbus protocols between Modbus TCP, Modbus RTU, and Modbus ASCII for all supported hardware interfaces. All of this, in bidirectional mode: Ethernet and Serial ends can selected to be either master or slave.
Modbus ID Routing
Modbus Gateway supports various types of hardware communication interfaces, Modbus protocol conversion, and Modbus ID routing. Therefore the Modbus Gateway can integrate your existing and complex Modbus
hardware configuration into a simple network that can be easily managed.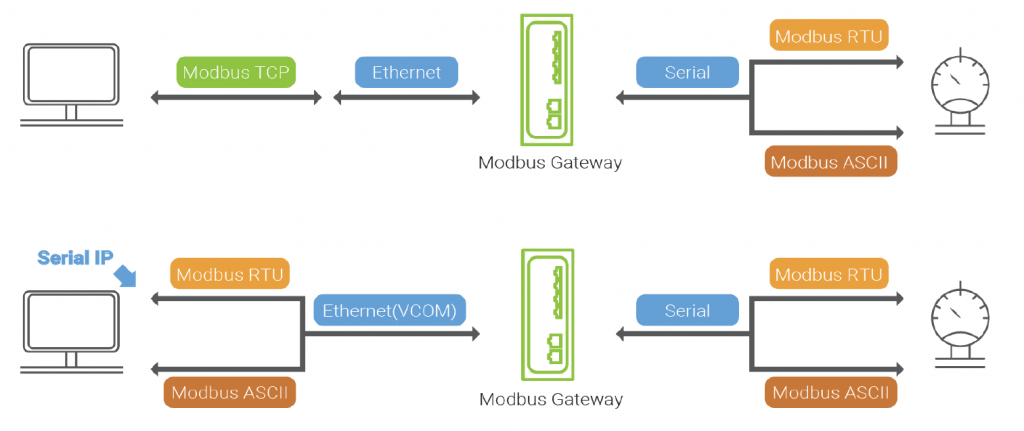 Modbus Data Concentrator
The Modbus Data Concentrator performs pre-defined Modbus commands to read/write data from the slave devices via serial ports. It mirrors slave device data to its own memory. Therefore, requesting masters can receive response in a shorter period, achieving better overall efficiency.
Regular Modbus gateway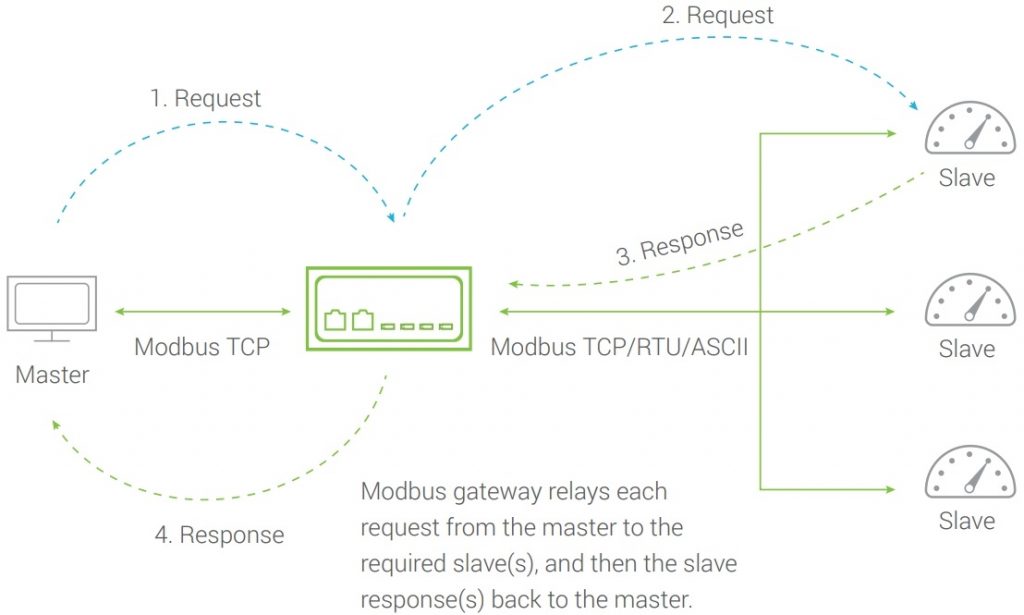 Modbus Concentrator