Providing connectivity for the Internet of Things
ATOP's Industrial Embedded Computer is your ideal flexible Gateway to the Internet of Things, specifically tailored for advanced Power Substation applications. It provides Serial, Ethernet connectivity and interfaces that can unlock your potential. Based on your specific application, it allowing almost any serial device to be connected, providing and retrieving the data you need to and from the cloud, no matter what provider you're using.
Programmability
Write your customized application in C language and Run it on its powerful Industrial low-power 1GHz ARM Cortex A8 TI Sitara AM3352 CPU. Make flexible use of your peripherals, no matter storage, Serial, or USB are needed.
SE5916A is available as a SDK/BSP. The SDK development environment reserves the maximum flexibility. Bottom to top editable software architecture allowed easily to customize or add the IoT applications for different using scenarios. Included Linux kernel source extend the capability of the kernel layer. Changeable WEB pages allowed to easily customize proprietary style. With the SE5916A SDK, it will extend your possibility while building your IoT applications.
Rugged and flexible for advanced developments
SE5916A embeds high EMC protection, wide temperature operation, programming and installation flexibility in one device.
The IEC61850-3 certified hardware makes it the most advanced Computing option, while the dual power supply provides additional
redundancy in case of power failure. High-Voltage option makes the device suitable for High-Voltage AC or DC inputs (100~240 VAC or 100~370VDC) that are common in substation environments, without additional cabling and power supply.
SE5916A (SDK) block diagram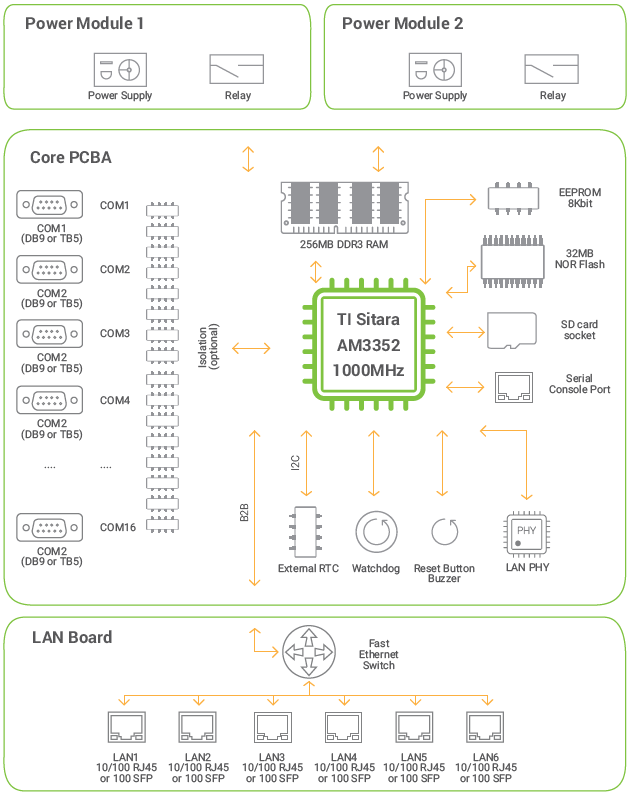 Application
The IoT (Internet of Things) or IIoT (Industrial Internet of Things) is a trending topic these days. It's all about bringing devices, sensors, actuators, data and commands to the cloud, with the ultimate goal to improve the quality of life, the services Smart Cities can offer, saving energy or saving money. This requires two things: to vehiculate the collected data to the cloud in a format that can be recognized and processed and to process, compute and analyze all this amount of data in real time.
It is not a concept far from reality. Imagine you'd like to bridge a Modbus Sensor to the cloud. And you'd like to have the application running on the cloud to be able to process multiple sensors' data, and to trigger some event in some specific stations along the network. You may also have the need to override the cloud control and manage the application locally. Any application has its story.
Here at ATOP, we understand these different needs and we are providing you different working models, based on what your needs are.
Use the Standard SDK, programmable embedded computer if:

You are familiar with Linux OS
You have ANSI C programming skills
Your application is strictly time/ performance sensitive
Your application has very critical exception handling requirements

Our SDK products provide:
Ported, proven and tested peripherals (such as I/Os, Ethernet, Serial, Relays) and integrated drivers
ATOP customized Linux Kernel and network protocolsPorted, debugged and proven third party application
Utilities and APIs to control the hardware in an easy and effective way
Opened software architecture to create your own system image
Linux source code to extend the kernel capability
Modifiable WEB contents to customize proprietary WEB style
Example of source code